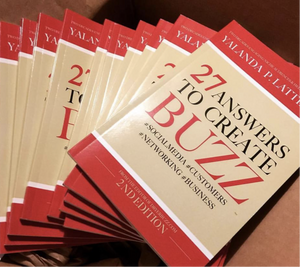 Virtual book signings. #27Answers to Create Buzz is the curriculum you need when using social media for business. Turn followers into lifetime customers and clients. 
In these 27 articles, written before the great migration to social media, are the answers you needed yesterday, today, and tomorrow. #27Answers comprised the history and predicted the future of business on social media as we live and do business in public.
#27Answers to Create Buzz is your new success best practices guided by SuperBlogger Yalanda Lattimore founder of DryerBuzz established 2002. Serial entrepreneur and brand genius who turns brands into household names and followers into customers.
Purchase a signed copy today. Also available on Amazon and bookstores.