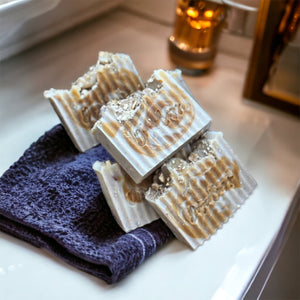 🔒 **#OatmealSavingsSubscription:** Lock in the comfort, lock in the savings!

🌟 What's the Subscription Perk?
- 📅 Monthly Soothing with Honey Oatmeal: Lather up in a world of soothing showers with our Soothing Honey Oatmeal Two Pack, delivered monthly.
- 💰 Lock in 20% Savings: Subscribe now and secure an exclusive 20% discount on every delivery.
💆‍♀️ Why Choose Honey Oatmeal Every Month?
- Gentle Comfort: Oatmeal-infused goodness for your skin, providing comfort and care.
- Consistent Self-Care: Elevate your routine with the dependable luxury of our Oatmeal Two Pack.
- Savings Secured: Enjoy not just the tranquility of oatmeal but also the peace of mind with 20% off!
#HoneyOatmeal #SubscribeAndSave #BestShowerSoapEver