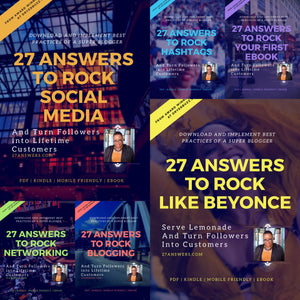 Wake up insta famous after implementing answers from this bundle of buzz.  We've combined our top books into 27 Answers Insta Pack.  You'll immediately receive your digital books via download and start creating buzz.
Included: 
How to Rock Social Media
How to Rock Blogging
How to Rock Networking
How to Rock a Hashtag
How to Rock Your First eBook
How to Rock Like Beyonce
Read them in no particular order. You decided where to start based on immediate goals and outcomes to reach.  Each one written with the goal of growing brand awareness and turning followers into life time customers.
Specific platforms mentioned may have changed. However techniques work across platforms. The bundle pretty much pays for itself with new customers.
Each ebook is email, mobile, pdf, and kindle friendly.
Price: $27.00 No refunds. Download links do expire. Reactivation fees apply.